Mission
Document, Reconnect & Contexualise
Document...
Street art in the twenty-first century is one of the most powerful and evocative art movements to emerge, a movement which Geo Street Art seeks to record, document, curate and represent in its wildest and most untrammelled forms. At street art's core is its much celebrated ephemerality, often engendered by the precarious places to which it gravitates and its sometimes unsanctioned capture of city surfaces. Thus, while some pieces may ride on the streets for years, others can last just days, hours even. No true piece of street art will last forever. Nor should it. The corollary of this is that, in terms of visual history, the photographic record is all that remains of this artistic movement. The celebration of this record is the first core pillar to Geo Street Art's mission.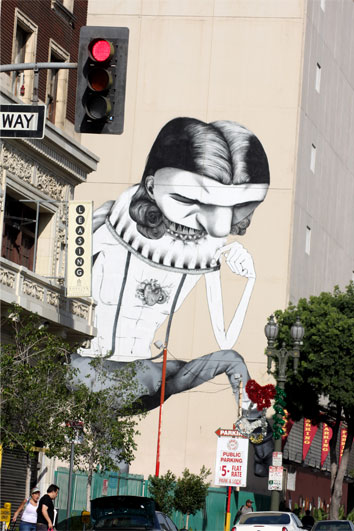 Claudio Ethos, L.A.
---
...Reconnect...
The internet and street art are close but sometimes uneasy allies. Since its inception through to today's explosive growth of social media, the internet has turbocharged and internationalised street art by connecting street artists with the global population in a way that simply wasn't possible before. In 1970s New York, pieces were generally only seen by those passing by on the streets and only recorded for posterity by a handful of visionary photographers who had the foresight to record and document these new artistic expressions when no others did. By contrast, today, a piece in Bogotá, Colombia can be seen in London, England within minutes of being put up on the street, and thousands of images of street art are shared over Internet sites and social networks every day. This has opened up the world of street art to a global audience that is hungry to engage with it. Yet, perhaps there is something missing here – something intangible. Maybe it's the thrill of turning
a corner and seeing an epic piece of street art in the flesh or perhaps it's perceiving first-hand street art's interaction with the city's streets. The greatest street art is often that which resonates with the immediate context in which it is placed and speaks back to the urban environment. The true expression of this can be very hard to convey via a computer screen, no matter how talented the street art photographer behind the lens. Thus, has the Internet, while connecting artist and audience on a Goliath scale, engendered a disconnection between viewer and context? Geo Street Art harnesses the power of the Internet and social media and crams it into an iPhone to reconnect people with the streets by providing an opportunity for people to see street art up close by helping them locate it. Addressing this disconnect is a big part of what Geo Street Art seeks to achieve and is the second core pillar to its mission.
---
...Contextualise
Geo Street Art aims to go further than simply recording and locating pieces of street art. We truly care about the street art scene and only work with authors and photographers who are extremely passionate about street art and truly embedded within their respective local scenes. As a result of this, we are able to access and disseminate a wealth of knowledge and information of the kind that cannot be gleaned from books. This knowledge is acquired over many years by the people who work alongside us. We'd like people to think of Geo Street Art as a key that unlocks an open air art museum within one's own city. Further, it is a museum that changes and evolves every day. Think of the times when you may have seen an awe-inspiring piece
of street art but had no idea of who who created it or why it was there. The number of incredible street artists putting down work in public spaces every day around the world is legion, yet often little is known about these artists. Commonly, the only street artist that people have heard of is Banksy and work from other artists is routinely attributed to him by many people simply because it is art that is on the street. In an attempt to move beyond this 'Banksy Paradigm', Geo Street Art seeks to contextualise the work of these artists by informing people who they actually are and spreading the stories behind their art. This is the third and final pillar.